Home
›
Starfleet Communications
Server Release Notes - 2023-09-19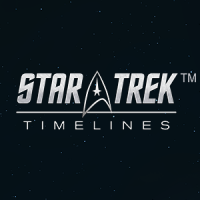 STT Community
admin
Greetings Captains,
With yesterday's server deploy we have made a few changes and additions to Voyages.
Here's the list of changes:
Added One Way Ticket Chapel as the new feature exclusive crew.
The 5-star jackpot drop has been changed to a behold and will now offer a choice between Vori Defender Chakotay, Admiral Black and One Way Ticket Chapel.
Added 5 new standalone dilemmas that can be encountered at and after the 12-hour mark which have increased odds of dropping the 5-star jackpot behold with the right resolution of the dilemma. These odds are doubled compared to existing dilemmas.
Added the following traits to Voyage seats:
Mirror Universe added to CMD, DIP, SEC and SCI seats
Caregiver added to DIP and MED seats
Nurse added to MED seats
Added Bitrillium III as a reward at 100% boss destruction on Nightmare Fleet Boss Battle
We hope you enjoy these changes.
Thank you for playing,
The STAR TREK TIMELINES Team.