Home
›
Starfleet Communications
Faction / Galaxy Event Notes Uncanny Valley - 2023-10-26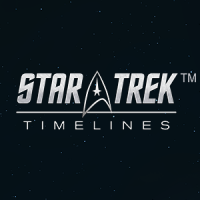 STT Community
admin
There are things within the universe those bound to this plane were never meant to experience. Perhaps the fraying of space and time due to the anomaly crisis - or the actions of those who would take advantage of it - have opened the door to something more horrific than anyone can imagine. Or is there something beyond that was always trying to get through, waiting for just such an opportunity?
Event Name
: Uncanny Valley
Event Type
: Faction / Galaxy
Event Start
: Thursday, 10/26 at Noon ET (16:00 UTC)
Phase 1 End Time
: Saturday, 10/28 at Noon ET (16:00 UTC)
Event Finish
: Monday, 10/30 at Noon ET (16:00 UTC)
Squadrons: Y
Crew Sharing: Y
Faction Winner Bonus: N
Event Crew
: Machine Man Paris (new) 5*, Paranoid O'Brien (new) 4*, Antedian Assassin (existing) 4*
Mega Crew Threshold
: Valeo Beta V La'an (existing) 5*.
Ranked reward 5* crew
: Compromised Kamron Gant (new) 5*. - this crew will be featured event crew in the event starting on 11/02.
Bonus crew
- high bonus: event crew
- small bonus: variants of Paris, O'Brien, Antedian 'Desperate' trait.
Event Faction
Borg, Klingon-Cardassian Alliance, and Terran Empire
Live long and prosper,
The Star Trek Timelines Team