Home
›
The Holodeck
Cheer me up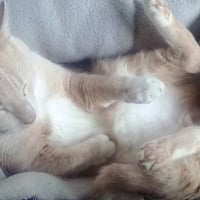 W.W. Carlisle
✭✭✭✭✭
My cat died during a mad run to the emergency vet in Cincinnati. No idea what happened. Went from eating half my breakfast yesterday morning to not hungry this morning to couldn't breathe tonight when we got home from the store. He would have been five the day after Valentine's. (15th). It's 1am and I'm not going to be able to sleep for awhile. I need a distraction.
Miss you already, Ves.
W.W. Carlisle
Played since January 20, 2019
Captain Level- 99 (May 9, 2022)
VIP 14
Crew Quarters: 470/470 +2
Most recent/Lowest- The Professor (1/5* Lvl 1) 5/24/22
Immortalized x-707 5* x106, 4* x421, 3* x91, 2* x57, and 1* x27
Most recent Immortal - Badgey 3* 5/10/22
Current non-event project- Improving my Medical base skill and freeing slots by immortalizing my FF SCI crew and freezing the unhelpful. Currently have ONE- Temporal Agents! Engineering will be next.