Home
›
The Bridge
Spocktober Mega 2022: Spe-Q-Lations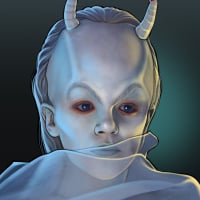 Jhamel
✭✭✭✭✭
While I doubt it's gunna be a "Spock"tober mega event, we already got a hint with the Wadi Game Master. It could be focused on the "Gambler" treat (new collection would get fed well), but it could also be a Gamma Quadrant mega event coming up.
My hopes are Gamma Quadrant, because there is still plenty of crew from that area which isn't in the game yet. For the repurring ... sorry recurring ... mega character I'd suggest the telekinetic "prototype" Vorta named
Eris
, played by Molly Hagan. Of course a Jem'Hadar would also have to be in there at some point, I'd suggest
Talak'talan
(legendary) from the same episode. Of course it doesn't mean that every card would have to be origined from the Gamma Quadrant, but also those who have visited it, just like
Teenager / Autopilot Jake
(new uncommon threshold reward, as we already have a Teenager Nog). Also some great cards would fit into the sensational 2-parter episode "In Purrgatory's Shadow" with the Vorta overseer
Deyos
(super-rare) and our hand-to-hand combat hero
Dominion Prisoner Worf
(legendary). Even a second variant (super-rare) of Tain,
Dominion Prisoner Tain
, could happen. Or how about the Romulan woman who was imprisoned alongside Tain, Bashir and Garak? Speaking of Garak ...
Claustrophobic Garak
(legendary) would definitely be one of my favorites.
Just my two Aenar-cents.
"Everything about the Jem'Hadar is lethal!" - Eris (ST-DS9 Episode 2x26 "The Jem'Hadar")